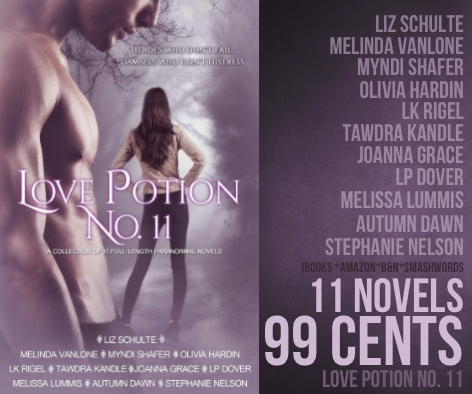 What do you get when you take eleven awesome paranormal authors, toss them into one box set, and turn up the heat?
Why, you get Love Potion No. 11, of course! This box set contains ELEVEN full-length novels from eleven authors. And right now. . .for a limited time. . .it's only 99 cents. Talk about a bang for your buck.
Eleven full length paranormal novels celebrating strong women, sizzling hot heroes, and all the things that go bump in the night.
One of the damsels who doesn't distress is Joss Pennell. She's an operative with the Carruthers Initiative Institute, a consulting firm that offers more than the typical services to its clients, as its employees all have extra special gifts.
We managed to get a hold of the transcript of a telephone call between Joss and her boss, Cathryn Whitmore, during Joss's visit to New Orleans to recruit Rafe Brooks to join Carruthers.
Cathryn: Jocelyn, I've been waiting for your call. It's been three days.
Joss: Hello to you, too, Cathryn. Sorry, I've been busy.
Cathryn: You're supposed to be busy recruiting Rafe Brooks. Have you made contact with him yet?
Joss: (laughing) Yeah, you might say that.
Cathryn: (sighing) Jocelyn, just give me an update, please.
Joss: I'm trying to. Okay, so here goes. Since our boy seems to like the ladies, judging by the bar-hopping and one night stands, I staged a damsel-in-distress deal at Cafe du Monde day before yesterday. He took the bait, and we ended up going out to dinner that night. And then, you know, one thing led to another. . .
Cathryn: Jocelyn.
Joss: Yes.
Cathryn: Yes, what?
Joss: Yes, I slept with him. Well, I kind of had to, you know? How else could I be sure he's erasing all the memories of the girls he's banging?
Cathryn: Honestly, Jocelyn.
Joss: Believe me, it was no hardship. He is seriously hot. And built. And his–
Cathryn: Jocelyn! Please. Stick to the facts as they pertain to his possible role with Carruthers. Did you approach him about that?
Joss: Yes. Eventually. Not during the sex, of course, but afterwards.
Cathryn: Details, please?
Joss: Of the sex? Well, sure, Cathryn, but I didn't think you wanted to know the blow-by-blow, as it were. So we were in the elevator at my hotel, and he backed me up against the wall–
Cathryn: NO! Not those details. (shudders) Please. I want to know Rafe's response when you told him about Carruthers, what we're offering him.
Joss: Fine. But you're seriously missing out on some juicy bits. Okay, anyway, he tried to erase my memory, of course, but I was ready. He left my hotel about four in the morning, and then I hung out in the lobby of his hotel the next day–that would be yesterday–until he came downstairs. Once he got over his shock that his little memory trick hadn't worked on me, I explained about the Institute, what we do, yada, yada, yada.
Cathryn: And what did he say?
Joss: At first he was angry, and resistant. I've given him a few days to think it over. I'm sure he's going to call his grandparents, get the skinny on us, as much as he can. We're having dinner together tomorrow night.
Cathryn: And what's your sense on the situation? What do you think will happen?
Joss: I'm pretty sure I'm going to sleep with him again.
Cathryn: I meant, do you think Rafe will join us? And you knew that.
Joss: I did, but fooling with you is so much fun. Ah. . .I don't know. I think he's intrigued. And he's kind of restless, at loose ends. That'll play in our favor. I'd bet his grandmother warns him away, and that'll figure in it, but in the end. . .I think I'm going to need an extra plane ticket back to Florida.
Cathryn: Thank you. That's all I need to know. I'll start putting things into motion on this end. (pause) You didn't mention to him that Tasmyn Vaughn is working for us, too, did you? I intend to keep them separated.
Joss: Nope. My lips are sealed. Well, except when I–
Cathryn: And that's my cue to end this call. Listen, before I do, if Rafe needs a little push, offer to take him along on your job on Friday. It's a fairly simple one, and it might make him feel better about saying yes.
Joss: Gotcha, boss lady. I'll be in touch.
Cathryn: Don't call me that, and Jocelyn, please be. . .(realizes the call has been disconnected). . .careful.
UNDENIABLE
For Rafe Brooks, running from a broken heart means losing himself in alcohol and women. Lots of women, none of whom will remember him, since he has the ability to manipulate their minds and make them forget.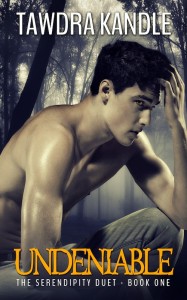 Numbing the pain works until he meets an irresistible redhead with secrets of her own. She offers him the opportunity to join forces with an organization that will use his powers for good rather than his own amusement.

Jocelyn rocks his world with her unapologetic passion and makes him believe for the first time he just might survive heartbreak.

When a mission takes the two of them undercover to infiltrate a commune with suspicious activity, they discover it's just the tip of a plot to cause world-wide anarchy. Hiding their extraordinary powers and real identities is crucial to staying alive.

For Rafe and Jocelyn, when life is uncertain, love is undeniable.

***This is a New Adult Book and contains scenes meant for readers over 18.****

Tawdra Kandle has been a writer since the invention of the pen. Her first published work appeared in Child's Life magazine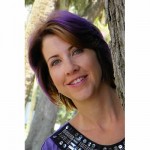 when she was 13. After a brief, thirty-year hiatus, she published a young adult quartet, The King Series. More recently, she's released contemporary and paranormal romances in both the adult and New Adult genres. Tawdra lives in central Florida with her husband and children, of both skin and fur types. And yes, she has purple hair.
Visit Tawdra at her website
Follow her on Facebook, Twitter, Pinterest and Instagram. . .
And sign up for her newsletter!
Buy the set now!
Amazon/iBooks/Barnes and Noble/Smashwords
Meet all the authors
and enjoy fun tidbits from the books by visiting a
different blog every day!
The following two tabs change content below.
Wife, homeschooling mom, YA author of paranormal, dark fantasy, and horror, huge fan of the Oxford comma, book blogger, crafter, baker of sweet things, lover of the culinary arts, self-appointed zombie slayer.